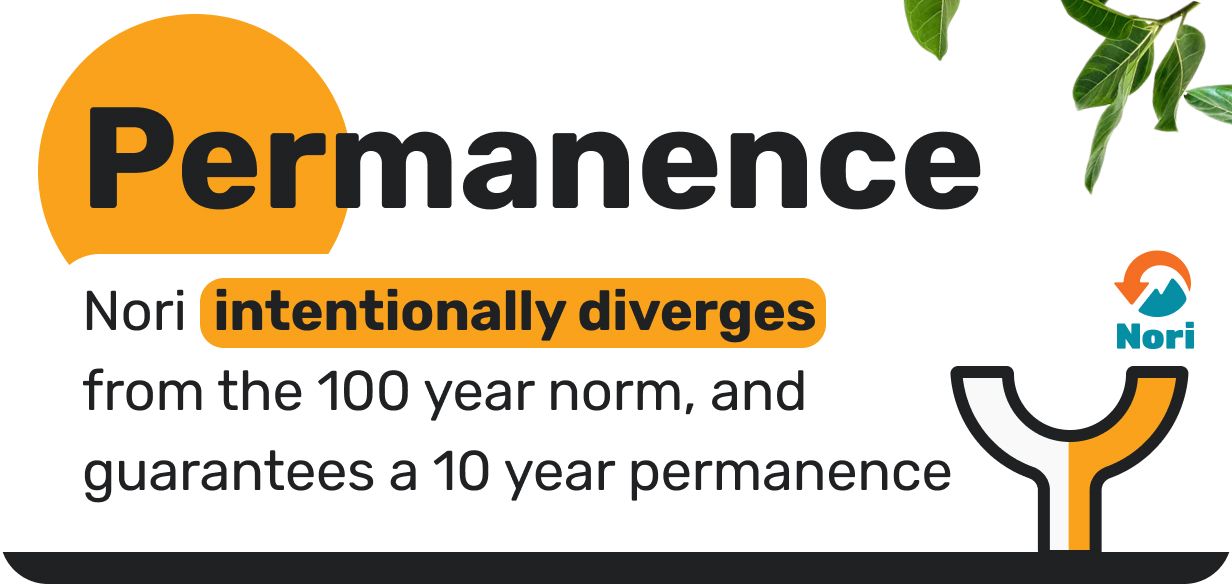 Nori Guarantees, at Minimum, Ten Years of Permanent Carbon Removal
Within legacy carbon markets, addressing the issue of carbon permanence is a two-part process: removal and storage. The internationally accepted standard of "permanence" in carbon offsets is 100 years
Nori Gauges Carbon Permanence Based on Methodology Requirements
Nori strives to be upfront and honest with all of its stakeholders in its pursuit of a fair and equitable marketplace. After careful consideration, Nori concluded that the nature of soil solutions makes guaranteeing 100-year permanence for soil projects unrealistic.
In the pilot US Croplands Methodology, Nori understands asking farmers, who already operate on tight profit margins, to sign an unwieldy, multidecadal contract is unrealistic. Instead, farmers in Nori's marketplace legally commit to making a sincere effort to retain the recovered carbon in soils and root systems for a minimum of ten years.
Nori determined that a ten-year contract was reasonable for projects for two primary reasons: 1) maintaining a fair and equitable marketplace is important, and 2) farmers are primarily interested in restoring their soil, making subsequent reversals in soil health unlikely.
Farmers who adopt regenerative practices are making a long-term investment in the future and the well-being of their land and soil. The startup and maintenance costs associated with that investment means farmers are not incentivized to revert to traditional practices at the end of the ten year contract.
Viewing Nori's Approach to Permanence Amidst the Larger Carbon Market Landscape
Nori understands buyers' desire for a certain and livable future vis-a-vis permanent carbon removal. And because transparency is at the heart of its mission, Nori approaches permanence with the goal of avoiding over-promising and under-delivering.
Nori recommends purchasing 10 NRTs to achieve the equivalent mitigation effects of 100 tonne-years. In the rare case another marketplace is able to guarantee 100 year permanence per 1 tonne of CO₂ removed, buyers should expect to pay upwards of $250 per tonne removed. The market value of 10 NRTs, as of April 2021, is $175 in Nori's marketplace, inclusive of Nori's fee.
Nori's Marketplace Has Safeguards to Protect Against Reversals
Even though Nori intentionally diverges from the standard norm of permanence, Nori recognizes that carbon removal is only valuable if the carbon remains removed.
In the event that Nori overissues NRTs, a contract is broken, or a natural disaster releases captured carbon, Nori will buy back and retire the extra NRTs to make buyer purchases whole. Furthermore, Nori will continue to monitor projects after the end of the contract term, and publicly report any significant reversal in carbon retention as well as future mitigation strategies. (305)
For more details and information on how Nori addresses permanence, visit Nori's how Nori achieves NRT permanence page.